Automate your
Marketing
Communications
Lead Generation
Workflows
Business
Texting
Emailing
Chatbot
aNinja does the work for you so you can focus on high-quality, productive interactions.
Manage your business better
a crm made for small businesses
aNinja is a CRM created and designed with small businesses in mind.  Using texting, emailing, chatbots, and workflows, aNinja automates as many steps in the sales pipeline as possible so that you have more time to devote to your company.  aNinja successfully combines all the sales and lead management tools you need.
Your CRM will always be at your fingertips with the aNinja mobile app available on iOS and Android devices and complete with push notifications. 

Customers will always have 24/7 lead generation when you implement a customizable chatbot on your website to increase engagement.
Target your leads more effectively, keep branding consistent, and more importantly save time with advanced, yet easy to use sms, email, and workflow automation features.

The key to quality CUSTOMER RELATIONSHIPS
SELL
Acquire more leads and clients that need your product using advanced sales tools that help you boost conversion rates. Easily manage opportunities and monitor as sales progress through the pipelines.
Maintain
Keep your customers and keep them happy. Know where they stand, how they feel, and when they need more attention than you thought--without ever needing to inquire.

BUILD
Develop relationships rooted in longevity and focused on transparency. With a streamlined communication stream and push notifications you can be sure all your clients receive the attention they need.
GROW
See your business take off! Generating new business and growing your customer base is no easy task, but aNinja is here to help support and sustain your growth and success.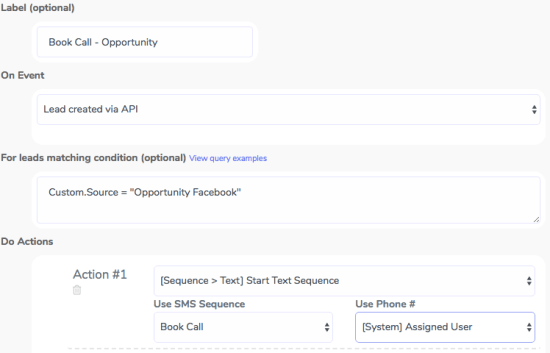 Optimized workflows and tasks – Guides your team on what to do next with and how to do it in simple check-able steps
Email and SMS automation – Sequences and triggers enable an automatic series of emails and texts to send to your leads
Templates – Create eye-catching marketing communications
Personalized chatbots – Support leads and clients 24/7 with custom chatbots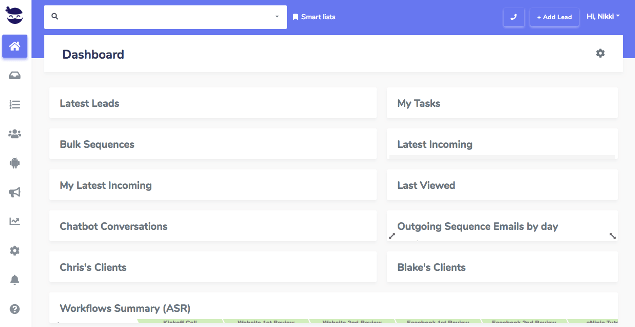 Custom dashboard – Configure your CRM dashboard to best suit your needs and goals
Mobility – Take aNinja with you wherever you go with our mobile app for iOS and Android devices
Lead Management – Custom fields, opportunities, notes, smart lists and more allow access to the most up-to-date contact information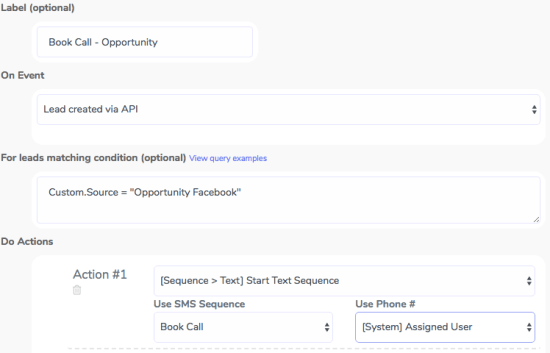 Optimized workflows and tasks – Guides your team on what to do next with and how to do it in simple check-able steps
Email and SMS automation – Sequences and triggers enable an automatic series of emails and texts to send to your leads
Templates – Create eye-catching marketing communications
Personalized chatbots – Support leads and clients 24/7 with custom chatbots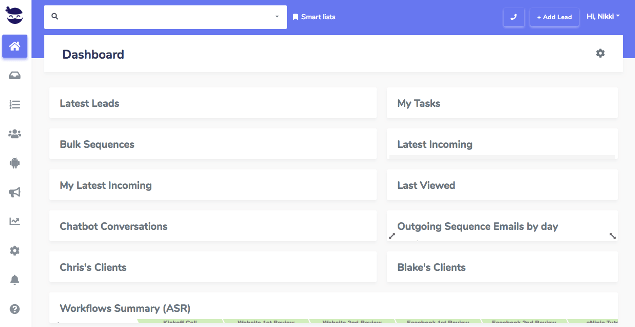 Custom dashboard – Configure your CRM dashboard to best suit your needs and goals
Mobility – Take aNinja with you wherever you go with our mobile app for iOS and Android devices
Lead Management – Custom fields, opportunities, notes, smart lists and more allow access to the most up-to-date contact information
Frequently Asked Questions
Check out our client success story to learn more about the effectiveness and results of our lead generation strategies